The nonprofit sector deserves to be celebrated.
Which is why Nonprofit Connect is pioneering a new holiday in Kansas City and the nation called "501c Day" happening on May 1st (5.01). This is a day to celebrate our incredible sector, and shine a spotlight on the individuals who work in it.
On May 1, 2023 we are encouraging all nonprofit organizations, their business partners, and individuals to make a post on social media, with the hashtag #501cDay, about their organization's mission, a cause they're passionate about, or a nonprofit organization that touches their life. You can also keep the party going by hosting an open house at your office that day to celebrate the spirit of community connection in the nonprofit sector.
To stay informed about what is happening with 501c Day, sign up for our email list with the button below.
We are also inviting nonprofit organizations to host their own open house at 3:00 PM on May 1! Throw open your doors to the community, invite in your clients, partners, patrons, and neighbors to learn about your organization and celebrate with you. Please reach out to events@npconnect.org with any questions you have.
Nonprofit Connect will be hosting our own open house, complete with food and entertainment provided by nonprofits, at our office starting at 3:00 PM. We'd love to have you join us to share in the camaraderie of the nonprofit sector and celebrate one another on this special day.

Browse our interactive map of 501c Day open houses in Kansas City!
Starting at 3:00 PM on Monday, May 1. Join any of these open houses around the KC Metro to learn more about their organizations and their mission.

We want to see your successes! We are asking for all organizations & individuals in Kansas City to make a post on their social media pages, on May 1, celebrating the nonprofit sector and the people who work in it. Whether you are a nonprofit, for-profit, or individual we want to hear from you! Use the hashtag #501cDay to join the conversation online and let us know about your affiliation with the nonprofit sector.
If you're a nonprofit organization, consider taking a photo of your staff, utilizing a frame in our toolkit and posting it across your social pages on May 1.
If you're a business partner of the nonprofit sector, tell us about the 501c organizations you support, donate to, or volunteer at. Why do you support these organizations and how has supporting them impacted you?
You'll find more examples in the FAQ below.
The 501c Day Social Media Toolkit is now live! You are now able to download our 501c Day toolkit here. In it you'll find logos, social media frames, suggested posts, GIFs and more! Please reach out to us at info@npconnect.org if you have any questions regarding the toolkit, or if you have trouble accessing the assets.
Frequently Asked Questions
501c Day - How it started
501c Day is the brain child of Nonprofit Connect, and its President & CEO, Luann Feehan. After leading Nonprofit Connect for a decade, Luann wanted to champion a holiday that celebrated the nonprofit sector and the people who make it up. Using her team at Nonprofit Connect, in 2023, they began the process of making 501c Day a reality on 5.01 day – May 1.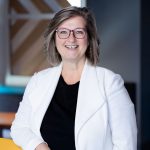 "There's really nothing like the nonprofit sector, and we deserve to have a day of celebration for the work that we do, and the missions that we serve. All of us are impacted by nonprofits at some point in our life. People are born in nonprofits, they live next to nonprofits, they benefit from community-based programs that are put on by nonprofits. Our lives would be fundamentally different without the nonprofit community serving as a backbone to our society. Now it is time for a day of celebration, pointed at the very people who spend their lives enriching our lives. 501c Day is our day to tell our own story to the world, and a day for everyone else to let these organizations know how much we appreciate them. We hope that you'll join us on May 1, this year and every year, to celebrate this incredible sector."
Luann Feehan - Nonprofit Connect CEO & President
A Nonprofit Connect Initiative