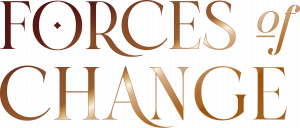 The professionals and organizations that make up Kansas City's nonprofit sector are forces onto themselves: some are forces for good, forces at play, or forces combined. Separately, they shape our cultural landscape on a daily basis and make our communities stronger and more compassionate. Together, they are creating a better future as unwavering Forces of Change.

The Nonprofit Connect Awards Celebration honors individuals and organizations for their outstanding commitment to positive impact in Kansas City. Now in its 39th year, the Awards Celebration has honored over 300 nonprofit professionals and organizations and remains the oldest and largest celebration of nonprofit excellence in Kansas City.

Purchase Tickets

Individual tickets to the 2023 Awards Celebration are curently on sale. You can also reserve a table for you and your guests as well. Purchase tickets by clicking the button below. Email events@npconnect.org with any questions you have.

Sponsorship Levels
Each day, nonprofit organizations perform tremendous acts of service that make Kansas City a better place to work and live. By sponsoring the Awards Celebration, you not only advocate for these organizations, but allow Nonprofit Connect to provide resources to help them fulfill their mission. View the sponsorship levels and benefits by utilizing the dropdown menus, or click here for a printable version.
For questions regarding sponsorships for the 2023 Awards Celebration please contact events@npconnect.org or 816.759.8614.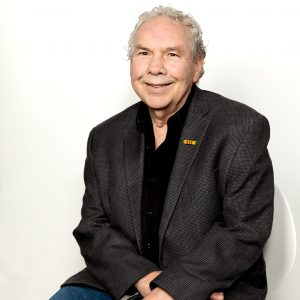 Persevering Advocate - Art Fillmore
St. Michael's Veterans Center
The Kansas City Vietnam Veterans Memorial, Heart of America Stand Down, Veterans Treatment Courts and St. Michael's Veterans Center would not exist without Art Fillmore. He founded and provided essential volunteer leadership in the planning and implementation of each of these valuable Kansas City organizations that honor and serve military veterans.
In 2010, Art joined with like-minded Kansas City leaders to create St. Michael's Veterans Center, a permanent and sustainable solution to veteran homelessness in Kansas City. Today, St. Michael's Veterans Center is a leading nonprofit in the Kansas City area committed to providing affordable, permanent apartment homes and supportive services for veterans experiencing homelessness or living with a disability. For over thirty years, Art has been a veteran advocate and Kansas City leaders have sought his leadership and involvement in various veterans and community efforts.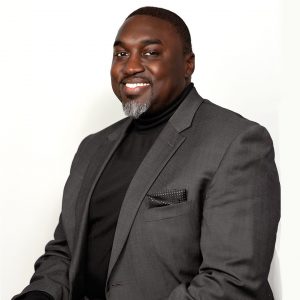 Nonprofit Catalyst (Staff) - Curtis Wright
AdHoc Group Against Crime
Curtis Wright serves as a Community Resource Advocate with the AdHoc Group Against Crime. He is responsible for connecting individual and families who have been impacted by violence to needed resources.
The work that AdHoc has done in this community for over 40 years is to be applauded. Curtis Wright will show up at a crime scene where a loved one's life has been cut short by homicide. He gets to work right away, calling community partners to help with resources like food, grief counseling, job assistance, and in some cases helping with crime scene cleanup. This work is hard, traumatic, and exhausting. Even still, he finds the strength to make it to neighborhood and community meetings to problem solve and dream about how great our community can be with hard work.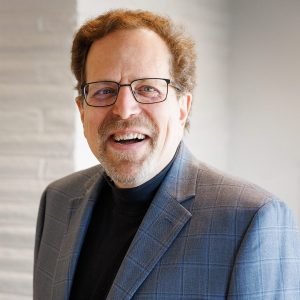 Nonprofit Catalyst (Executive) - Don Goldman
Jewish Family Services (JFS KC)
Don Goldman's near 16 years of service has turned Jewish Family Services (JFS) into a powerhouse leading the way in providing programs to assist people in need throughout Kansas City.
He's guided JFS through rapid changes in programming and client needs while also deftly maneuvering a pandemic that hit JFS older adults and lower income clients particularly hard. Don is unwavering in his vision to bring essential services and mental health support to anyone who needs them - regardless of race, age, culture, religion, or identity - and embodies the Jewish value of Tikkun Olam: repairing the world, one person, one family at a time.
Don has pioneered new approaches for serving 10,000 of our Kansas City neighbors each year. He is, simply put, one of the most respected catalysts for change in the community.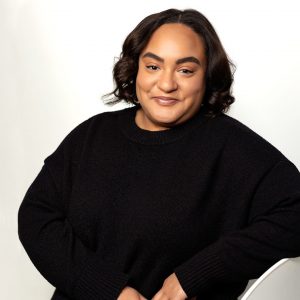 Equity In Action - Kansas City Community Bail Fund
Represented by Chloe Cooper
The Kansas City Community Bail Fund was created to help pay the bail of individuals already struggling financially. While detained pre-trial, people can lose their jobs, their homes, and in some cases, even custody of their children. The KC Community Bail Fund IS Equity In Action by affording individuals in jail the same opportunity as wealthy individuals: to go about their lives while they wait for a conviction to take place. KC Community Bail Fund is working hard to continue their success by adding additional programming to their roster, like Project Greenlight (which helps assist low-income KC residents pay for driving compliance expenses), partnering with Angel Tree Network to help sponsor Christmas gifts for parents in prison to send to their children, and raising awareness on social media about the criminal justice system.
Excellence in Impact (Small Division) - WeCode KC
Represented by Tammy Buckner
WeCode KC is a nonprofit organization whose mission is to create pathways to economic prosperity by providing programming knowledge skills, and building confidence in youth, and young adults, and individuals often excluded from tech careers. They are cultivating a diverse pipeline of future-ready tech professionals to connect skilled talents to leading businesses, entrepreneurship or college.
The entry point for WeCode is, to begin with, two flagship programs that teach coding to urban youth and young adults from underrepresented communities. While the coding training is a critical first step, embedded from the beginning in the WeCode approach is a commitment to mentorship and experiences that build foundational skills such as critical thinking, creativity, problem-solving and decision-making. These skills will prove essential to participants' success as they navigate life and future career paths.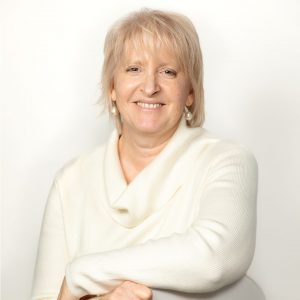 Excellence in Impact (Medium Division) - Amethyst Place
Represented by Starla Brennan

Amethyst Place is the product of community leaders banding together in 1989 to help single mothers and their children overcome damaging generational cycles of substance use. Due to lack of safe housing after treatment, these women had no choice but to return to the same communities where their substance use began, threatening their recovery and the stability of their families. Founded in May 2000 by task force members, Amethyst Place has filled this gap for over 22 years and has been home to over 375 families, including 726 children.
Their long-term model achieves deep and lasting impact. In 2022, 98% of women maintained recovery, 86% of children in foster care placement were reunified, and 86% of women were employed, in school, or employed while in school (many as first-generation college students).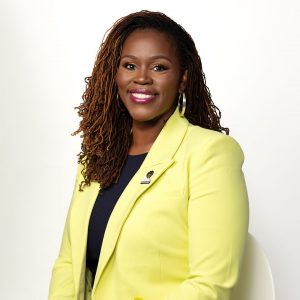 Excellence in Impact (Large Division) - Kauffman Scholars
Represented by Tanesha Ford
For the last twenty years, Kauffman Scholars has played a key role in supporting Kansas City students as they navigate the journey through postsecondary education and the transition to career. As a program, Kauffman Scholars gave its students access to internships, local and national college visits, and mentorship. Through natural attrition, nearly 1300 students persisted through high school graduation, receiving financial support to cover common expenses like tuition, housing, dining, and textbooks.
Kauffman Scholars will conclude this year with over 800 graduates who live, work, and contribute to the betterment of this city. The program has learned the importance of not only assisting students toward the finish line of degree completion, but also shifting to support program Alumni as they evolve into emerging leaders in Kansas City.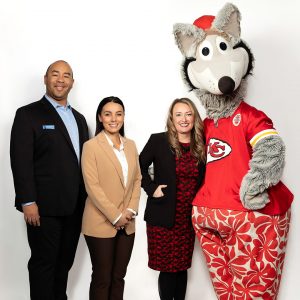 Stronger Together - GEHA and YMCA of Greater Kansas City with The Hunt Family Foundation / Kansas City Chiefs and Unified Government of Wyandotte County & Kansas City, KS Parks and Recreation
Represented by (left to right) Gene Willis (GEHA), Angel Ferrara (Unified Government of Wyandotte County & Kansas City, KS Parks and Recreation), Jessica Earnshaw (YMCA), and KC Wolf (Kansas City Chiefs)

In an investment with the YMCA of Greater Kansas City's "Learn to Swim" program with Kansas City, Kansas, Public Schools and the Unified Government of Wyandotte County and Kansas City, Kansas, GEHA provided funding for 200 students' summer swim lessons at Parkwood Pool, the only public swimming pool in KCK.
The 'Joe Delaney Learn to Swim Program, Presented by GEHA' now offers lessons to hundreds of students in historically marginalized communities at no cost through this collaboration. Additionally, the partnership addresses equity issues around access to free equipment, allowing for hesitant families to have one less barrier for participation. This program received the 2022 Kansas Recreation and Parks Association's "Outstanding Aquatic Branch Program Award"; the first time that a Kansas City, Kansas program has received such an honor.

2023 Awards Celebration Categories
Nominations are now closed for the 2023 Awards Celebration.
Persevering Advocate
-Presented to an individual*, who
-Demonstrated an outstanding commitment to champion a nonprofit organization.
-Exhibited support for the organization through personal leadership and service.
* Note: Designation of primary role (i.e. executive director, nonprofit staff member, board member, volunteer) will be requested on the nomination form. We welcome and encourage nominations of individuals in ANY role.
Equity In Action
-Presented to a nonprofit organization, that
-Exhibits an outstanding commitment to equity, diversity and inclusion.
-Continues to foster an inclusive culture.
Nonprofit Catalyst
-Presented to two nonprofit professionals (one executive, one staff member), who
-Demonstrated extraordinary commitment to their organization.
-Used exceptional leadership and / or teamwork skills to find solutions to relevant issues.
Stronger Together
-Presented to a nonprofit organization and another entity (i.e. business, foundation, government agency or nonprofit), that
-Achieved greater results in service to the community through combined resources than one entity could have achieved on its own.
Excellence In Impact
-Presented to two nonprofit organizations (one large, one small), that
-Found creative and inclusive solutions to expand their programs or provide additional services to their community.
-Demonstrated resourcefulness and determination to continue mission fulfillment.
The 2022 Nonprofit Connect Award Celebration Honorees were:

Equity in Action
Kansas City Girls Preparatory Academy
Stronger Together
Alphapointe with Rightfully Sewn
Excellence in Impact
Heartland Center for Jobs and Freedom (small division)
KC Shepherd's Center (medium division)
TNC Community (large division)
Nonprofit Catalysts
Andy Betts (Executive)
Humaira Mirza (Staff Member)
Persevering Advocate
Paul Menne
Questions
For questions about the Awards Celebration, please contact events@npconnect.org.