#GivingTuesday is a global day of giving that harnesses the collective power of charities, families, businesses, and individuals to encourage philanthropy and to celebrate generosity worldwide. #GivingTuesday is held annually on the Tuesday after Thanksgiving to kick-off the holiday giving season and to inspire people to take collaborative action to improve their local communities and to give back in better, smarter ways to the charities and causes they support.
#GivingTuesday in Kansas City
Give local! After treating yourself, friends and family on Black Friday and Cyber Monday, make sure to treat your community on Giving Tuesday. When you donate to a local nonprofit, you're directly supporting the quality of life in the metropolitan area and beyond. Make a statement about the kind of community you want to live in.
There are over 12,000 nonprofits in the Kansas City metropolitan area, including your favorite theater, church's food pantry, your alma mater, health clinic down the street, local after-school program, neighborhood association and the animal shelter where you adopted your best friend. It's easy to find an organization that you want to support.
For Nonprofits
Nonprofit Connect would like to gather feedback from local nonprofit organizations so we can show the comprehensive impact of #GivingTuesday in our city. There are many national statistics on #GivingTuesday results, but little statistics specific to the amount of donations given in Kansas City. This data will help all of us to elevate the day of giving in our community, and create an even bigger buzz next year.
Please take two minutes to complete our survey, to help us increase public awareness about the impact of giving and good work of the nonprofit sector in Kansas City.
#GivingTuesday Results 2019
Following #GivingTuesday in 2019, Nonprofit Connect issued a survey to nonprofit organizations based in the Kansas City metropolitan area. Local organizations reported on the goals and results of their #GivingTuesday campaigns. We've compiled the data below to show the collective impact that #GivingTuesday generosity has on Kansas City and our community.
Thank you to all of the nonprofits who shared their results with Nonprofit Connect!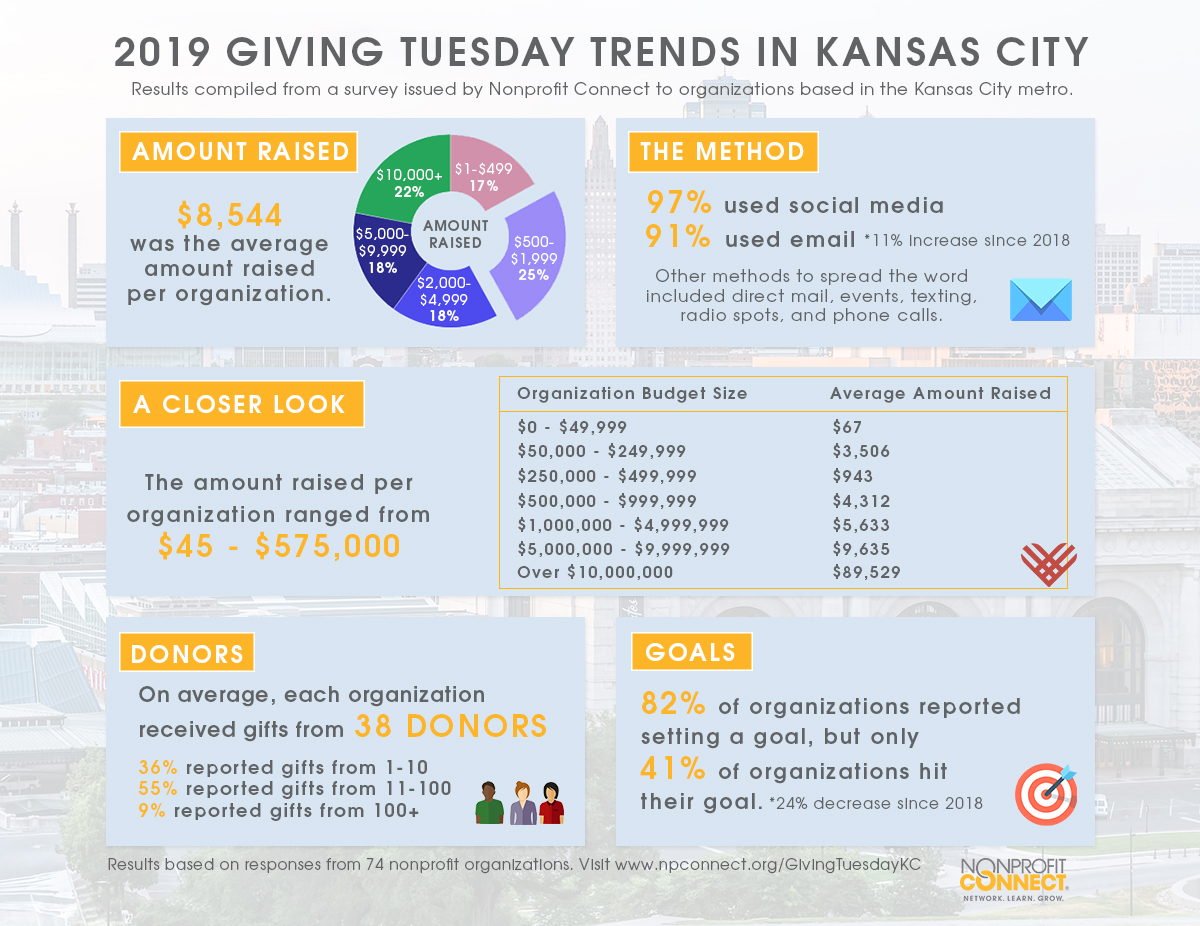 Findings
Results based on responses from 74 nonprofit organizations.
Amount Raised
$8,544 was the average amount raised.
Totals per organization ranged from $45 - $575,000.
Reported Amount Raised
$1 - $499 - 17%
$500 - $1,999 - 25%
$2,000 - $4,999 - 18%
$5,000 - $9,999 - 18%
$10,000+ - 22%
| | |
| --- | --- |
|  Organization Budget Size |  Average Amount Raised |
|  $0 - $49,999 |  $67 |
|  $50,000 - $249,999 |  $3,506 |
|  $250,000 - $499,999 |  $943 |
|  $500,000 - $999,999 |  $4,312 |
|  $1,000,000 - $4,999,999 |  $5,633 |
|  $5,000,000 - $9,999,999 |  $9,635 |
|  above $10 million |  $89,529 |
Method
97% of organizations used social media.
91% of organizations used email.*
*This is an 11% increase since 2018.
Other methods to spread the word included direct mail, events, texting, radio spots and phone calls.
Donors
On average, each organization received gifts from 38 donors.
36% reported gifts from 1 - 10 donors
55% reported gifts from 11 - 100 donors
9% reported gifts from 100+ donors
Goals
82% of organizations reported setting a goal, but only 41% of organizations hit their goal.*
*This is a 24% decrease since 2018.
Goals can include amount raised, number of donors, social media impressions, volunteer sign-ups, etc.
Past #GivingTuesday Results