Philanthropy Awards Luncheon
We do what we do to make life better for people across the human spectrum. No matter the need, there will always be someone to meet it. We are changing the story for the new generation, for a new time, for a new and inclusive vision.
With more than 1,000 members of the nonprofit and business community attending every year, the Philanthropy Awards Luncheon is Kansas City's oldest and largest celebration of giving. The funds raised at the Luncheon allow Nonprofit Connect to continue to offer education, resources and networking so that area nonprofit organizations can more effectively achieve their missions.
Coronavirus Notice as of 7/21/20: We are "Changing the Story" for this year's event, from an in-person gathering to an interactive and virtual, livestreamed event on Tuesday, August 25th from 11:45 AM – 1 PM.  The livestream will be accessible via npconnect.org. There is no cost to attend and registration is not required. If you are interested in being a sponsor or making a donation in support of the event, you may do so online or by contacting events@npconnect.org.
36th Annual Philanthropy Awards Luncheon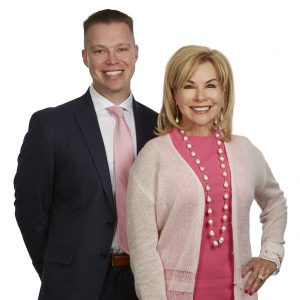 Luncheon Co-Chairs
Jeanette Prenger and Darren Prenger
We're thrilled to announce Jeanette Prenger and Darren Prenger as the 2020 Luncheon Co-Chairs! Jeanette was recognized as a Rising Star of Philanthropy in 2009, and Darren was recognized as the Emerging Philanthropist in 2019. This mother and son team know firsthand the importance of giving in Kansas City.
2020 Philanthropy Awards Honorees
The Philanthropy Awards honor individuals and organizations for their outstanding commitment to impact through philanthropy in Kansas City. During the past 35 years, Nonprofit Connect has recognized over 200 honorees at the annual luncheon.
Chair and honoree photos by Gary Rohman photography.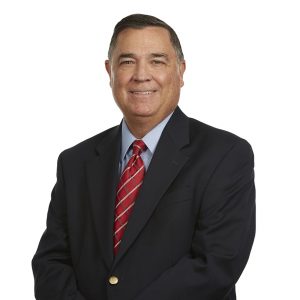 The Sunderland Family
Philanthropists of the Year
Four generations have led the Sunderland family's charitable giving for the last 74 years. Focused on building the places where families in distress find help and healing, the Sunderland Foundation has grown into one of the region's largest foundations. The family uniquely supports brick and mortar projects, recently including $75 million to build the Children's Research Institute at Children's Mercy, $66 million to build an inpatient care unit at The University of Kansas Health System, $4 million to expand the surgery suite and pharmacy at Olathe Medical Center, and $10 million to expand the NICU at Truman Medical Center. Their work strengthens the continuum of care in Kansas City and provides state-of-the-art facilities for people at all stages of life. Through bold capital funding, the Sunderland family is setting a new standard for philanthropy in Kansas City.
Nominated by Children's Mercy, The University of Kansas Health System, Olathe Medical Center and Truman Medical Center
Pictured: Kent Sunderland, Board Chairman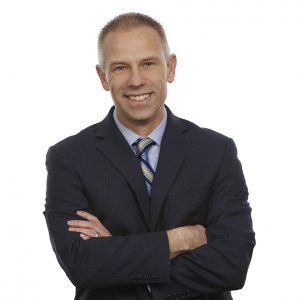 Bank of America
Business Philanthropist of the Year
Bank of America recognizes the interdependence between the success of the bank and a thriving community. The company invests in people and communities to help enable economic mobility, environmental sustainability, financial wellness, and community development. Bank of America gives more than $2 million each year in Kansas City through grants and matching gifts, sponsorships, employee gifts and volunteering, and community engagement. Since launching its signature Neighborhood Builders program in 2004, the bank has invested $5 million in 26 local organizations and provided leadership training for 52 nonprofit executives. The bank's investment is broad and deep, including fundamental support of arts and culture organizations like Kansas City PBS, National WWI Museum, Kansas City Symphony and the Kansas City Ballet. Bank of America's continued work with area nonprofits focuses on economic mobility and enriches lives in our community.
Nominated by Kliff Kuehl, KCPT – Kansas City PBS
Pictured: Matt Linski, Market President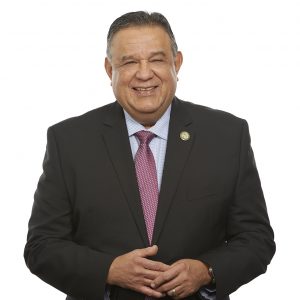 Cris Medina
Nonprofit Professional of the Year
For over 40 years, Cris Medina has served as CEO of Guadalupe Centers, Inc., one of the longest continuous operating organizations serving Latinos in the United States. Under Cris's leadership the organization has grown from one nonprofit to three, adding the Guadalupe Centers Employees Federal Credit Union and Guadalupe Educational Systems, to employ nearly 400 staff and grow to a combined agency budget of over $32 million. The Center has received international recognition, including the prestigious Ohtli Award from the Mexican Government. This award is presented to an organization that has provided outstanding service to Mexican communities abroad, and the Center is the only organization to receive this award twice. The Center was also named affiliate of the year by the National Council of La Raza, and one of the ten most effective Not for Profits in the country by the Independent Sector. These merits could not have been achieved without Mr. Medina's vision, leadership and dedication. His contributions have been seen and felt throughout the greater Kansas City area and far exceed his role as leader of the Guadalupe Centers; which promotes equity, inclusion and diversion.
Nominated by Cici Rojas, Tico Productions & Tico Sports LLC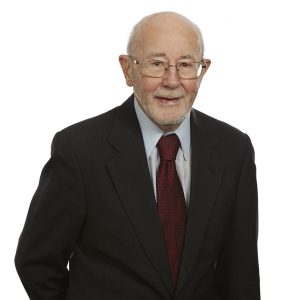 Gene Balloun
Volunteer of the Year
Gene Balloun has demonstrated an unfailing commitment to foster and adopted children for decades. Now a retired law partner, Gene has served as pro bono legal counsel for over 1500 families adopting foster children, donating thousands of hours of his time. Gene and his firm donate all state paid adoption fees to a scholarship fund for foster and adopted children which has provided over $1 million in scholarships. He has long served on the board for FosterAdopt Connect, helping the organization secure funding, procure a new building, and merge with a Kansas support organization to bring comprehensive services to both sides of the state line. Gene and his firm took the lead in fighting a new law that would have stripped funding and assistance for children in Missouri facing abuse and neglect. Not only were Gene and the firm successful in this lawsuit, but they used the State compensation that the firm was awarded to create an endowment called "Lawyers for Kids." In addition to his work with FosterAdopt Connect, Gene and his wife have a long personal history as foster parents, having fostered 29 children and adopting two as part of their family. Gene's commitment, creativity and vision have made a tremendous impact for the most vulnerable children in our community.
Nominated by Liz Ross Luce, FosterAdopt Connect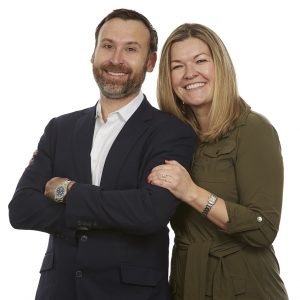 Nora & Marshall Lockton
Emerging Philanthropists of the Year
Nora and Marshall Lockton are philanthropic champions for the youngest survivors of abuse and neglect at The Children's Place. They have financially supported the agency for the last nine years and have donated more than 400 hours of their time serving on the board and committees. Marshall was an integral part of the Chief's Charity Game fundraising team that raised over $2 million for The Children's Place in the three-year partnership, the highest amount raised by any beneficiary over the past 35 years. Nora is an active member of the organization's Board of Directors. The couple is currently serving as the co-chairs of a significant capital campaign for The Children's Place that will help the organization move into a new home in 2020. Together, Nora and Marshall have been instrumental in garnering support for Kansas City children.
Nominated by Ann Thomas, The Children's Place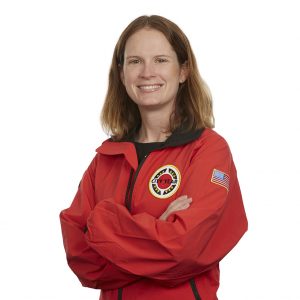 Audra Clark
Emerging Nonprofit Professional of the Year
When City Year launched in Kansas City in 2015, Audra Clark was selected to lead the effort as the Founding Executive Director. Under her leadership, the organization has grown from 16 to 66 City Year AmeriCorps members serving as full-time tutors and mentors to more than 4,000 students at seven local public schools. Audra has established Kansas City as one of the premier City Year sites nationally, with higher-than-average staff retention and school satisfaction rates. She and her team have even been awarded the highest honor by the National City Year organization two years in a row. Audra's unique ability to manage the details, and also see the big picture and motivate her team and board toward goals, has enabled her to excel in both the startup and growth phase.
Nominated by Mark Donovan, Kansas City Chiefs and Lisa Ginter, CommunityAmerica Credit Union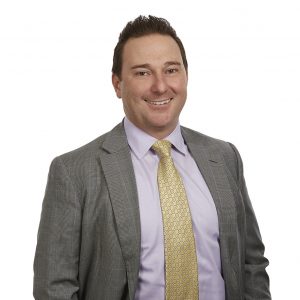 Chuck Cuda
Emerging Volunteer of the Year
Inspired by his father's fight with lymphoma, Chuck Cuda has worked tirelessly to support the Leukemia and Lymphoma Society Mid America Chapter with his time, talent, and financial contributions. Chuck founded The Green Tie Gala in 2018 and, under his leadership, the event has raised nearly $700,000 for leukemia and lymphoma research. In addition, Chuck serves on the boards of the Tommy Simone Memorial Foundation and ARTermini Foundation, and also donates his time and financial resources to Children's Mercy, Big Brothers Big Sisters of Kansas City and the FIRE Foundation. Chuck is truly passionate about giving back.
Nominated by Darren and Shannon Prenger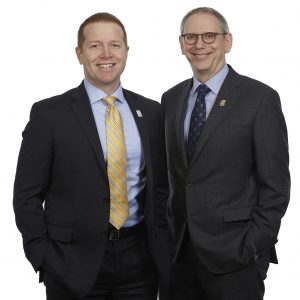 Vibrant Health and The University of Kansas Health System
Excellence in Collaboration
Health care in our community can be complex and difficult to navigate, particularly if you are uninsured or underinsured. In 2016, the former Turner House Children's Clinic, now Vibrant Health, and The University of Kansas Health System formed a collaboration to address the issues impacting health care access in Wyandotte County. Working together, these two organizations merged the operations of three clinics to create Vibrant Health, a safety net health center that streamlined and integrated care between medical, dental, and behavioral health services, improving access throughout the county. In September 2019, Vibrant Health was awarded federally qualified health center designation, bringing federal grant dollars to Kansas City, Kansas to focus on expanding services and access to care for families in our community. Last year, through this collaboration, Vibrant Health served over 10,000 patients, of which nearly half were uninsured, equating to more than $2.3 million in charitable care expense.
Pictured: Patrick Sallee, CEO of Vibrant Health and Dr. Steve Stites, Executive Vice President of Clinical Affairs & Chief Medical Officer at The University of Kansas Health System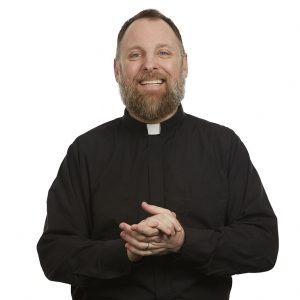 Reconciliation Services
Excellence in Impact
Focused on transforming Troost from a dividing line into a gathering place, Reconciliation Services offers progressive wrap-around services for the area's most underserved. The organization was founded in the 1980's to combat the complex, multi-generational poverty and trauma that had taken hold of the east side of Kansas City following desegregation. In 2019, Reconciliation Services served more than 5,000 people in need of identification documents, rent and utilities assistance, medical and dental assistance, and trauma and depression therapy. The organization is best known for opening Thelma's Kitchen, an innovative social venture that provides nutritious food access in an inclusive environment and a pay-what-you-can model. By addressing root problems and embracing creative solutions, Reconciliation Services is changing the Troost corridor into a thriving and vibrant community.
Nominated by Elizabeth Danforth, Evergy
Pictured: Fr. Justin Mathews, Executive Director
Philanthropist of the Year
2019 - Deanna & Greg Graves
2018 - Tom Isenberg, John Isenberg & Carol Barnett
2017 - Dr. William A. & Mary Reed
2016 - Marlys & Michael Haverty
Emerging Philanthropist of the Year
2019 - Darren Prenger
2018 - Randy & Cheryl Reinhardt
2017 - Jessica Best & Brian Stewart
2016 - Jennifer Matney
Business Philanthropist of the Year
2019 - CommunityAmerica Credit Union
2018 - H&R Block
2017 - The Miller Group
2016 - Kansas City Chiefs
Nonprofit Professional of the Year
2019 - Randy Wisthoff
2018 - Jeffrey Bentley
2017 - Frank Byrne
2016 - Wayne Sims
Emerging Nonprofit Professional of the Year
2019 - Gillian Helm
2018 - Jeremy Lillig
2017 - Sarah Reape
2016 - Deborah Wiebrecht
Volunteer of the Year
2019 - Joseph Jacobs III
2018 - Kevin Connor
2017 - Linda & Terry Ward
2016 - Peggy & Terry Dunn
Emerging Volunteer of the Year
2019 - Chris Rosburg
2018 - Nicole Jacobs-Silvey
2017 - Jake Jacobson
2016 - Rachel Hack Merlo
Excellence in Impact Award
2019 - Jewish Community Foundation of Greater Kansas City
2018 - United Way 2-1-1 of Greater Kansas City
2017 - Big Brothers Big Sisters of Greater Kansas City
2016 - Community Services League
Excellence in Collaboration Award
2019 - Giving the Basics with KCMO Police Department and KCMO School District
2018 - Women's Foundation & City of Kansas City, Missouri
2017 - Artists Helping the Homeless & Saint Luke's Hospital
2016 - Kansas City, Kansas Police Department & Rainbow Services, Inc.
Special Lifetime Achievement Award
2019 - David Renz, Ph.D.